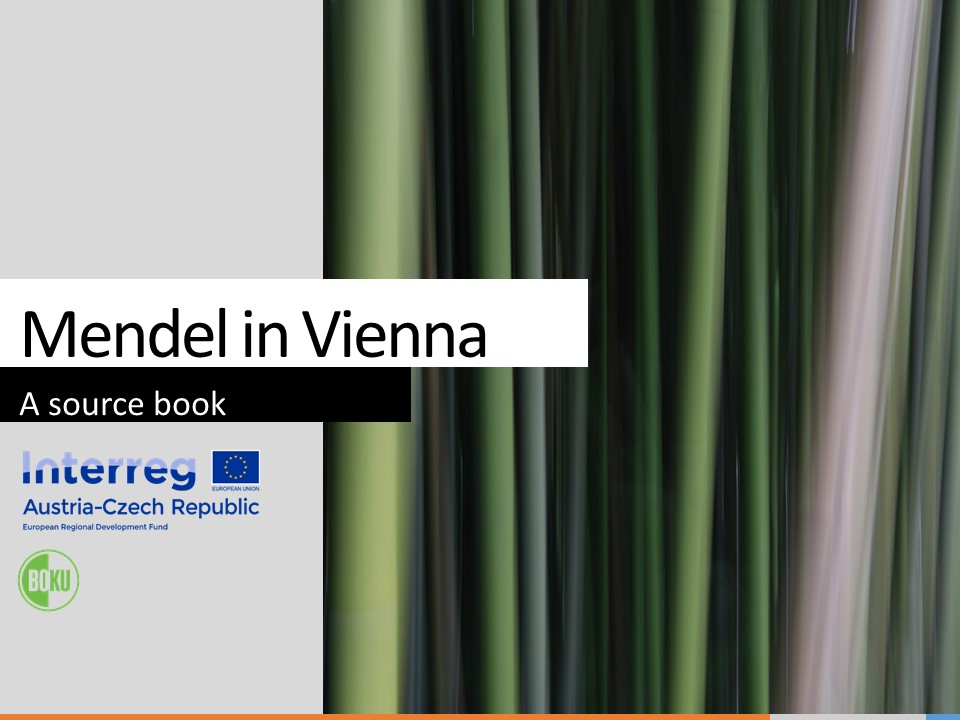 Vienna / Austria, 30 December 2022
Mendel in Vienna - a source book
Free pdf E-Book

A Mendel source book has been published as part of an Interreg project between Austria and Czech Republic on then occasion of Gregor Mendel's 200th birthday in 2022. The pdf E-Book functions as a "walking guide" illustrating the presence of Mendel in Vienna.

Download link: Mendel_in_Vienna_2022_pdf_E-Book.pdf
File size: 20 MB
Instruction:
Open E-Book file in Adobe Acrobat Reader (or other pdf viewer).
Browse the book in full screen presentation mode (press "Ctrl-L").

Bibliography:
J. Vollmann, 2022, Mendel in Vienna, a source book. E-Book. Universität für Bodenkultur Wien. Vienna, Austria. ISBN 978-3-900397-05-0. 90 pp.












This publication is supported by the project nr. ATCZ278, G.J. Mendel's legacy to science, culture, and humanity, co-financed by Interreg Austria-Czech Republic.
DE: ATCZ278, G.J. Mendels Vermächtnis für Wissenschaft, Kultur und Menschheit
CZ: ATCZ278, Odkaz G.J. Mendela vědě, kultuře a lidstvu








Abstract:
Gregor Mendel is the founding father of genetics. Mainly based at Brno in today's Czech Republic, Gregor Mendel had numerous links to Vienna, Austria. Between 1851 and 1853, Gregor Mendel was enrolled as a student at the University of Vienna. There, he was part of a vibrant scientific community, and his professors of natural sciences were standing at the forefront of scientific discussions of the time. Undoubtedly, this was a source of inspiration for Mendel, so that after returning to Brno Mendel started plant hybridization experiments. In 1866, his famous paper "Versuche über Pflanzen-Hybriden" was published, which laid the foundation of scientific plant and animal breeding as well as of the new science of genetics. In 2022, 200 years after Gregor Mendel's birthday, this source book and "walking guide" illustrates his presence in Vienna: Places and monuments named after Mendel, his teachers Franz Unger, Christian Doppler and Eduard Fenzl from the University of Vienna, Erich Tschermak (one of the rediscoverers of Mendel in the year 1900), institutions commemorating his work and continuing his science are presented. In addition to these illustrations, over 20 examples of newspaper records from the period between 1850 and 1884 reveal Mendel's links to Vienna.

Keywords:
Gregor Mendel Vienna Wien Austria Gregor Mendel Street Hochschulstrasse Universität für Bodenkultur Wien BOKU Merndel portrait Daniel Fairbanks plant breeding research animal breeding research Erich von Tschermak Seysenegg Mendel rediscovery interspecific hybrids Triticum Aegilops Hermine Tschermak Dahlia Friedrich Engels Platz Mendel monument Mario Petrucci laws of inheritance Angela Wiedermann Evamaria Müller University of Vienna Christian Doppler physics Franz Unger botany Austrian Academy of Sciences Erich Tschermak estate William Bateson Berlin genetics congress Kurt von Rümker Wien Landstrasse St. Elisabeth monastery Botanical Institute Botanical Garden Rennweg Anton Kerner Ritter von Marilaun Colchicum autumnale Eduard Fenzl fertilisation Mendel Pisum paper Versuche über Pflanzen-Hybriden 1866 reprint printing errors Theresia Schindler sister Gregor Mendel Institute Mendel in newspapers deutsch Schwarzer Adler hotel Goldener Stern hotel Botys margaritalis Bruchus pisi insect pest Vinzenz Kollar Goldenes Lamm hotel abbot Matschakerhof hotel thunderstorm Brno abbot Nordbahnhof Vienna World Exposition Rotunde Johann Schindler Mendel Donau hotel hotel Europa emperor Franz Josef I visit obituary 1884 funeral E-Book eBook